What is a Pilot Gig?
The Cornish Gig is a six oared rowing boat, almost ten metres long, built of elm. Originally they were used as general purpose work boats and inshore lifeboats. The tradition of racing gigs comes from the race to get a pilot from shore to an incoming vessel which needed the pilot to navigate into harbour - the fastest gig rowers got the payment.
The Pilot Gigs
"Vigila"
Built for RAF St Mawgan in 2015. Based at
Newquay Rowing Club.
"Catalina"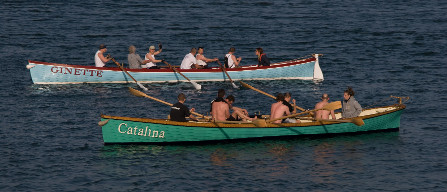 Named after the flying boat based here in WWII, the Catalina was built in 2014 for
Cattewater Gig Club.
"Bedehaven"
Repairs and repaint, 2014, belongs to
Bude Gig Club
"Dove"
Dove came to Brian for a complete refurbishment and repaint. She was originally built 1820 and belongs to
Newquay Rowing Club
, who also have two other older gigs, the Trefry and the Newquay - both of which date back to the 1800s.
"Teylu"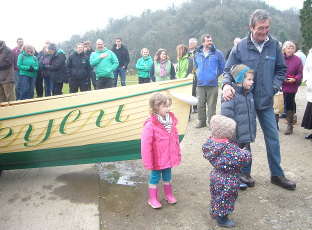 Built in 2014 for
Cotehele Gig Club.
"Seahawk"
Repair and refurbish of Seahawk for Culdrose Gig Club.
"Brabyn"
Built for Padstow Rowing Club, Brabyn was launched in June 2010 at Padstow Harbour.
"Whitford"
Damage to Whitford repaired for Appledore Pilot Gig Club in 2010.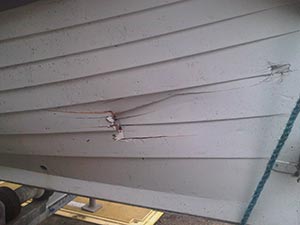 "Cream of Cornwall" - Built 2009/2010
New gig built for Calstock Rowing Club (see gallery:- "Cream of Cornwall"), launched at World Pilot Gig Championships.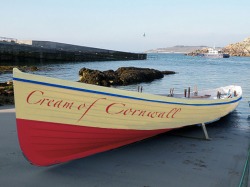 "Iron Maid" - Built 2006
World Pilot Gig Championships 2006
"Iron Maid", built in 2006, and loaned for the championships to the St Martin's, Isles of Scilly, Dauntless crew. In 2008 Iron Maid returned home to St Martins and now continues to be rowed by the Dauntless Crew.
See our Western Morning News centre page spread (1Mb PDF) with colour pictures about the "Iron Maid". The article also has information on the revival of Gig Racing.


"Tamar" - Built 2008
The "Tamar" was built during the winter of 2007/2008 for the Tamar & Tavy Gig Club.


Repaired and Refurbished Summer 2007.
"Ginette" - Built 2004
September 17th 2005
The Tamar and Tavy Gig Club transported "Ginette" from her familiar West Country surroundings to the Thames, in London, to take part in the "Trafalgar Great River Race". Over 250 boats took part in this "Thames River Marathon", including 28 other gig boats. The "Ginette" crew covered the 22 miles in 2 hours 27 minutes coming first in their class, winning the "Bulgin Pilot Gig Trophy". This prestigious win was achieved with dedication and team work from the crew and supporters.
The crew thanked Brian Nobbs, the builder of the gig for his support throughout the preparation and actual event. For Brian, this was a race with nostalgic connections as he is a former London Shipwright, who served his apprenticeship in a Thames Shipyard. Brian was accompanied and assisted by his wife Ginette. Look out for the pilot gig "Ginette" in future Thames River races.
The pilot gig "Ginette" built by Brian Nobbs in 2004 entered the 2004 championships, crewed by the Tamar and Tavy Gig Club.